There was a time when owning a decent touchscreen gaming laptop meant sacrificing significant computing power. And as a result, we had to make do with clunky devices that struggled to run most, if not all, of the demanding game titles. Fortunately, years of technological breakthroughs have allowed the development of versatile touchscreen laptops that manage to remain powerful. So powerful, in fact, that some of the best gaming laptops of 2021 have touchscreens. 
Here's a look at this technology and the best devices it brought us in 2021.
Touchscreen basics
A touch-screen is basically an input panel layered on top of a display. The input panel lets you interact directly with what's on display without requiring external devices like a mouse or keyboard.
Different variations of this technology exist- capacitive, resistive, and infrared touchscreens.
Capacitive touch input is a transparent electrode film embedded over the display. This film detects your finger(s) using the conductivity of your skin. Furthermore, it maps out where and whether your finger is tapping, swiping, pinching (and even your tap speed) using coordinates over an x/y axis. Unfortunately, this technology doesn't work without an exposed finger. So, you can't quite use capacitive touchscreens with your gloves on. This can be a real bummer during winter when the weather is extremely cold. Fortunately, the next touchscreen technology was designed to solve exactly this kind of issue.
Resistive touch screens respond to virtually any object; they can detect a finger (gloved or not), stylus, or even pen. This is made possible by a change in voltage that occurs when the two metallic layers covering the glass panel and film screen make contact. The flexible top layer requires a bit of pressure to make the metallic layers touch, hence the term 'resistive. However, the outer polyester film is pretty vulnerable to sharp objects. Resistive touch screens also offer poor contrast and don't support multi-touch input.
The infrared design, unlike the previous two, does not adopt the overlay design. Instead, it uses IR emitters and receivers placed on the bezels(borders of the screen) to create a grid on the screen. This grid is invisible to the human eye, and when it's interrupted, sensors can identify the touchpoint. This design produces the highest image quality of existing touchscreen technologies. It's also capable of palm rejection. However, it's more expensive than other touchscreen technologies and is easily damaged by moisture, even in small amounts.
Pen and stylus basics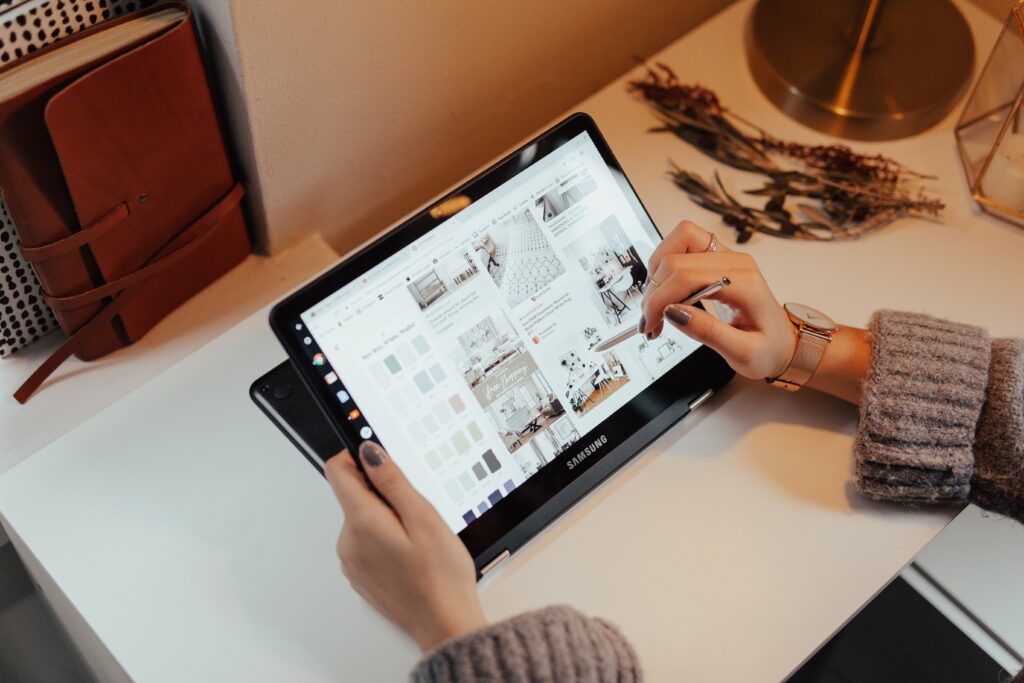 The stylus is a pen-like accessory primarily associated with tablets. It is commonly used to draw, write, or navigate a touchscreen device. Generally, there are two types of stylus pens, a digital pen and a plain stylus(also known as a stylus pen).
The latter is the simpler device and comprises only a fine tip and a conductive body. It works by conducting current just like your skin would. This lets it be a more accurate imitation of our fingers and thus, supports any touchscreen that your finger does.
On the other hand, a digital pen is a more complex device that consists of a pen-like tip and internal electronics. These allow it to communicate with the device it's being used on. They are usually larger, more expensive, and support only specific devices. On the bright side, such pens properly utilize software like Windows Ink.
Why would you need a touchscreen gaming laptop?
The versatility of course; that's the main reason people choose touchscreen gaming laptops. One minute you're roaring through Doom Eternal at 120 fps, the next, you're using your stylus to complete a work or school project. This is largely due to the touch screen laptop's adaptability; it can transform into a canvas or notebook when you need it to.
Also, touchscreens in gaming laptops are often indicators of bleeding-edge technology. This means that pretty much all the latest game titles will run smoothly at well over 60fps. The keyword here is gaming laptops; because there are lots of touchscreen laptops with less than impressive hardware specs.
Below are some of the pros and cons of owning a touchscreen laptop.
Advantages of a touchscreen
The biggest advantage of a touchscreen laptop is that it can transform into a tablet instantly. Of course, not all of them have this feature, but the few that do can be pretty exquisite. You're basically getting a 2 in 1 device, which is in itself a major convenience during work.
They're also quite delightful to use when supplemented by supportive software like Windows Ink, which has unlocked more features for pen and stylus use. You can now do more with your finger or pen, like using sticky notes, taking and editing a screenshot, or even painting like you would on a canvas.
To top it off, some models come with two screens for better multitasking. Thus, you don't have to worry about multiple tabs filling up your primary screen. It also allows you to watch playthroughs for difficult game sections without having to close the game or take out your phone.
Disadvantages of a touchscreen
Touchscreen laptops are not without their disadvantages. For instance, they cost more to purchase than regular laptops with similar specifications.
The next caveat comes in the glossy finish, which suffers more in outdoor scenarios than its matte counterparts. Its reflective nature means that you'll probably struggle to use the screen in daylight no matter how bright the screen is.
Lastly, your battery will suffer more compared to a similar laptop with a regular screen. This is because the touchscreen requires a constant flow of current, even when not in use.
Our touchscreen recommendations
If you've bought into the technology and can't wait to get yourself an excellent touchscreen gaming laptop, here are our top recommendations.
Best touchscreen gaming laptop
Our top pick is the ASUS ROG Zephyrus Duo SE 15, which comes with two 4K displays; a 15.6-inch ROG screen-pad and a smaller 16:9 secondary display below it. The larger screen supports a smooth gamer-friendly 300Hz refresh rate, while the smaller screen maxes at 60Hz.
Under the hood, the laptop runs on the super-fast AMD Ryzen 9 5900HX CPU, while its graphics are provided by the powerful NVIDIA RTX 3080 GPU. You also get 32GB worth of DDR4 RAM and a whopping 1TB NVMe SSD; both expandable to 48GB and 2TB, respectively.
Best stylus laptop for creatives
Microsoft's attempt to create a potent convertible laptop seems to be paying off with the Microsoft Surface Pro 8. And while the device is far from competing with other high-end laptops in raw power and performance, it beats them in the stylus experience.
The Surface Pro 8 offers the best pen experience on a 13" screen, making its stylus (Surface Slim Pen 2) the best notebook companion a creative can have. It is available in different models with varying RAM (8GB to 32GB), internal storage (128GB SSD to 1TB SSD), and processors (Intel Evo Platform Cores i5 and i7).
Best large display touchscreen laptop
If you're more of a screen real-estate type of person, this device is for you. The Dell XPS 17 tramples its competition with a stunning 17inch 4-sided InfinityEdge display. In addition, its touch response is quite impressive, and the display packs 921k more pixels on UHD+ for you to work and game with crisper rendering.
Under the hood of the Dell XPS 17 is an 11th Gen Intel Core i7 processor and an NVIDIA RTX 3060 GPU. These ensure that you can play the latest game titles at well over 60 fps and work on your creative projects with no hiccups.
Best lightweight touchscreen laptop
The Razor Blade15 Advanced stands out as the lightest touchscreen gaming laptop, coming in at a mere 4.4 pounds. Even then, the device manages to deliver impressive hardware. It has a 15inch 4K OLED touchscreen with a 360Hz refresh rate, which allows the dedicated NVIDIA GeForce RTX 3080 GPU to shine in full strength. The CPU is a lighting fast Intel Core i9 11th generation chip that clocks up to 5.1 GHz.
Best budget-friendly touchscreen laptop
Those looking for a capable touchscreen laptop that won't empty their wallets will find one in the Lenovo IdeaPad Flex 5i 14. For less than $1000, you get a 2 in1 laptop with a 2k 14-inch touchscreen, a respectable Intel Core i5, 8GB of DDR4 RAM, and 128GB SSD.
Best touchscreen design laptop
Samsung brought forth the best touchscreen design we could find with the Samsung Galaxy Book Pro 360. Inside it, an 11gen Intel Core i7 CPU, a dedicated GPU, and 16GB of DDR2 RAM ensure that the device's good looks are backed by equally impressive performance. Additionally, the 13-inch 2K AMOLED display renders crisp images and provides more than enough room for creatives to tinker around with the S-Pen.
All these laptops come with a preinstalled version of Windows 10, upgradable to Windows 11 when it's available.