What do you see when you think of 3D printing? A multimillion facility or a DIYer's garage? Well, if you are an entrepreneur, you should see your business. This is because 3D printing has the potential to revolutionize your small business.
If you can efficiently leverage its capabilities, you'll raise your venture to heights that would otherwise have been impossible to attain.
Fortunately, you don't have to be an expert to integrate 3D printing into your business. All you need is some basic information on the technology, most of which we will cover in this guide on 3D printing for small businesses.
3D printing over the years
3D printing was first documented in Japan in the 80s. This was the work of Hideo Kodama, and his version of a 3D printer used photosensitive resin polymerized by UV light as the printing material. It also employed a layer-by-layer approach in manufacturing, which became the foundation of 3D printing.
Over the next 30 years, 3D printing silently developed and advanced away from the public's eye. Those familiar with the technology knew it as this super expensive method of creating 3D models. But this was soon to change.
In 2008, 3D printing exploded into fame when the first prosthetic leg was printed. That's when most of the world was introduced to 3D printing. However, a few companies still maintained a monopoly over the technology, making it out of reach for 99% of the population.
Fortunately, 2009 would see a complete shift in trends. The technology suddenly became available to more companies ( it's a long story going back to the 80s), leaving the door wide open for innovation. The competition also resulted in 3D printers becoming cheaper and more accessible over the next decade.
Today, 3D printers are more affordable, better, and easier to use than ever before. They also have a wide range of applications; in education, manufacturing, medicine, sports, hobbyist stuff, and so much more.  Small businesses can also use 3D printers for various crucial tasks.
The technology is still evolving, and more ideas and innovations are created every day. So, we should see greater feats and utility of 3D printing in the coming years.
The benefits of owning a 3d printer for your business
As a business owner, you want to join the 3D printing movement not because it's a trend, but because it has actual value to your venture. Some of the benefits of owning a 3D printer as an entrepreneur include;
1.   Prototyping
If your business requires you to generate product ideas, you'll love owning a 3D printer. It makes it easier to develop prototypes to show to potential investors, customers, and advisers. So, rather than outsourcing the service, which takes more time and can be costly, you get to do it yourself at your business premises.
This means that you can experiment with design ideas as much as you want until you're satisfied. Generally, 3D printing is the fastest, most convenient way for startups to develop prototypes for their businesses.
2.   Customization
Do you dream of providing custom-made products to your customers? Well, if you were planning to consult with a third-party manufacturer, cancel the meeting and order a 3D printer.
Today, many small business owners are doing the same thing. They are learning to use 3D printing technology to customize their products to the needs of individual customers. And if there's one thing customers appreciate, no matter how little they're paying for the product, it's feeling noticed.
3.   Printing on demand
Another benefit of having a 3D printer is printing objects on demand. They don't necessarily have to be products you're selling- just anything that you or your customers may
need at the moment. For instance,  a small restaurant can 3D print spoons if they run out of them during the day.
Or maybe a piece of equipment has broken off. If it's 3D printable, you can go ahead and replace it there and then.
4.   In house production
3D printing makes in-house production possible. This is great considering that actual manufacturing is expensive and out of reach of most small businesses.
With a 3D printer, you are the manufacturer. So, things like on-demand production become possible. You'll also be able to create single products, allowing you to escape the pitfalls of traditional mass manufacturing. Overall, 3D printing will save you lots of time, effort, and money.
Types of 3d printers
There are several types of 3D printers. These can be broadly categorized according to the printing material and include;
1.   Filament printers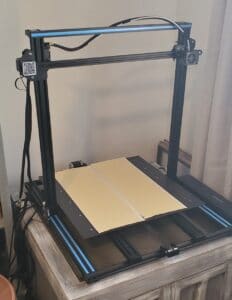 3D filament printers use thermoplastics as the printing material. These are plastics/polymers that melt when heated, allowing them to be shaped and molded into a 3D model that solidifies as it cools.
The most common filaments used in 3D filament printing are polylactic acid (PLA) and acrylonitrile butadiene styrene (ABS).
Filament printers use fused deposition modeling (FDM) or fused filament fabrication (FFF) printing technologies.
2.   Resin printers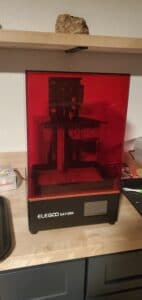 3D resin printers are the earliest forms of 3D printers. They use liquid resin as the printing material, which is hardened by light as the individual layers of the object are produced. Traditionally, UV light was used to harden the material but today, different light sources are used in some 3D resin printers.
There are also different 3D parenting techniques for resin. These include digital light processing (DLP), stereolithography (SLA), and liquid crystal display (LCD)/SLA.
3D resin printers generally produce a higher level of detail and quality than filament printers.
Which is best for my business?
Well, that will depend on what you want out of your printer. If you plan on making relatively big 3D-printed materials, then a filament 3D printer is the best option. This also applies if quality and detail aren't of great importance to you.
But if your business involves 3D printing small models with attention to detail, then we recommend getting a resin printer.
Open or closed frame
3D printers can also be classified as open or closed. Closed printers have an enclosure, while open ones have none. This is not a purely cosmetic difference as it affects the quality of the print and maintenance. Here's how the two categories compare;
| | |
| --- | --- |
| Enclosed 3d printer | Open 3d printer |
| Produces superior print quality | Good print quality |
| Quieter | Easier to clean and change parts |
| Looks more professional | Easier to watch the print |
| Harder to clean and change parts | Looks decent |
| Harder to keep track of the print | Lacks dust and wind protection |
| | |
The difference between a cheap and expensive 3d printer
3D printers come in a wide range of prices. Some retail for as little as $100, while others go for well over $15,000. As an entrepreneur, the price matters, of course, but you don't want to rush for the cheapest 3D printer available. It's not really about how much you pay for the equipment upfront, but how much value it brings you over time to justify the investment.
So, are cheap 3D printers worth it, or should you go ahead and spend a couple thousand dollars on your investment.
The good and the bad of cheap 3D printers
Cheap 3D printers are priced anywhere between $100-$500. The good thing about them is that they are affordable. They are also fairly simple and easy to use. You can buy the machine today, and by the week's end, you're familiar with everything about it. But that's just about as positive as it gets with cheap 3D printers.
Most of these 3D printers are designed for hobbyists. The target market is people who enjoy owning and using the machine to mess around with random designs. The focus isn't so much on quality, so such printers won't really fit in a professional setting.
A cheap 3D printer may not translate to savings in the long run. This is because it may come some hidden costs, including;
Low-quality components: The mechanics and electronics of most cheap 3D printers are manufactured from low-quality components. The same goes for the control systems. Thus, it will be hard to produce high-quality printouts using such equipment.
Breakdowns: The low-quality components also mean that the machine will break down at some point. So, you'll have to incur repair costs or purchase a new one. It may also cause downtime due to a pause in prototyping, customization, and other important tasks that rely on 3D printing.
Why pro 3D printers are worth
For small businesses, the most affordable professional 3D printers cost around $1000 to 1500. However, you can still find a decent utility 3D printer for less than $1000. These are not necessarily high-end, but they have been designed with enough focus on quality to be used for business activities.
Here's what makes investing in a professional 3D printing machine worth it;
High-quality components and superior 3D printing technology. Thus, these printers can produce a relatively higher quality of printouts than entry-level printers. This means better prototypes, better customization, and customer satisfaction.
There will also be no hidden repair and downtime costs since a professional 3D printer is less likely to break down.
Some machines will come with professional support from the manufacturer. Thus, if you encounter any issues, there is a team at hand to sort you out.
So, you may actually save money in the long run by investing in a professional 3D printer for your small business.
Large format printer vs. multiple small printers
How much printing do you think your business will require? Depending on the answer, you're faced with two options;
Buy a large format printer.
Buy multiple small printers.
Well, your choice will depend on;
How much and what you will be printing: If you'll be printing a large item frequently, then a large format 3D printer will do. Of course, you can always use several small printers and print parts separately before assembling them, but this is a less convenient approach.
Print times matter; One of the biggest disadvantages of large-format 3D printers is that some large printing projects take days to complete. The only way to make such a project quicker is to break it into smaller pieces using smaller printers. So, if speed of operation is of great importance to you, integrating multiple small printers will do the trick.
Reliability: Even the most reliable printers break down once in a while. If you're worried about downtime, it's best to use multiple small printers.
Tips for large format 3D printing
Today, most companies are interested in large format 3D printers because of the larger build volume, which allows for a wide range of applications. So, if you go for size, here are a couple of things you need to know;
Most of these printers use thermoplastics as the printing materials in FFF and FDM. Other printing technologies are more difficult and/or too expensive to adopt into large format printers.
FFF and FDM aren't the most detailed of printing technologies. If you're dissatisfied with the result, there are several post-processing techniques you can use to arrive at your desired finish. These include grinding, sandblasting, or shot peening.
When buying a large-format 3D printer, look for a model that offers the best balance between print quality and speed.
What to consider when choosing your 3d printer
1.   What size prints do you need to complete?
The size of your print will determine the size of your 3D printers. If you'll be printing large designs, you want a model with an equally large build volume. But if your prints are relatively small bits and pieces, then a small 3D printer will do.
2.   What are your prints made of?
Different 3D printers are good at printing different materials. So, consider what your prints will be made of before making a buying decision. They can be plastic, resin, carbon fiber, graphite and graphene, paper, or even metal.
3.   Does the quality of prints matter?
The amount of detail you want in your prints will determine whether you buy a resin or a filament printer. Generally, resin 3D printers offer better quality and detail.
4.   Do you need to print in multiple colors?
3D printing has gotten so good that there are full-color 3D printers in the market. So, if you'll be printing in multiple colors, you may want to get one of these.
Our printer recommendations
A 3D printer is a worthy investment for your business. And if you want one of these assets, here are our top 3D printer recommendations for all budgets.
1.   Elegoo Saturn and Saturn S 3D printer
This large format resin printer is popular among DIYers, but it can serve your business pretty well. With such a large print area you are able to set up multiple objects in one print job. This increases productivity dramatically as you will spend less time setting up print jobs on your computer. Once you have had successful prints your next step would be to set up the Vroom settings to decrease your print time production.
Pros
Detailed print quality for its price
Large print platform 192x120x200
Cons
2.  FlashForge 3D Printer Creator Pro2
An independent dual extruder 3d printer with 2 filament spools. The flash forge is built on a metal frame enclosure keeping your print environment under control. The heating bed offers rapid heating to prevent any prints from warping or lifting from the bed. The dual extruder allows for multiple prints at the same time, making it convenient to produce more prints in less time. You also have the option for dual-color filament printing or even dual filament types to be used.
Pros
Compatible with multiple devices and filament types
Dual extruder allows for rapid protyping
Easy to set up
Has removable cover
Enclosure
Cons
Dual extruder can sometimes fail to stay synced
3.   Creality CR 10 S5
Having used this 3D printer from Creality for a while now, we can say that it offers the best value for small businesses on a budget. This printer has one of the largest print platforms for a consumer printer.
Pros
Affordable
Large print volume
Easy to set up
Print can be resumed after power failure
Cons
Slightly outdated UI
Manual bed leveling is made harder by the large bed
4.   Dremel DigiLab 3D45 3D printer
This is one of the best 3D printers for small businesses. It's built with entrepreneurs in mind and doesn't sacrifice quality for cost.
Pros
Excellent print quality
Safe design
Powerful software
Easy to set up and use
Relatively quiet
Cons
Limited filament colors
Touchscreen can get unresponsive.
MakerBot Replicator + 3D printer
Makerbot has a reputation for making great Pro 3D printers, and they don't disappoint with this one. It is efficient and reliable and will serve your small business well if you can match the price.
Pros
Excellent print quality
Easy to  use
Free yet powerful software
Smart technology integrated
Cons
Lacks heated bed and auto-leveling
Set up using the official app can get complicated
Filament is pricey