If you love playing fighting tournaments most conveniently, then the Steam Deck handheld PC is what you should get. Xbox Game Studios' Phil Spencer congratulated Valve "on getting many of us excited to be able to take our games with us wherever we decide to play." Even Tim Sweeney of Epic games joined the hype.
You must be wondering what's so special about the Steam Deck handheld computer because of the publicity that it is getting especially since its release date is still December 2021.
Is it worth the wait? Well, you are about to find out!
What You Need To Know About Steam Deck
Steam Deck is a gaming PC developed by Valve Corporation built with exceptional gaming features. To create Steam Deck's APU, Valve partnered with AMD which is optimized for effective handheld gaming. As a Zen 2 + RDNA 2 powerhouse, it runs all the latest AAA games in a speedy power envelope.
This device uses standard A/B/X/Y buttons, symmetrical thumbsticks, a power button, two trackpads, R1/ R2/ L1/ L2/ triggers, a D-pad and four easily accessible grip buttons at the back of the device.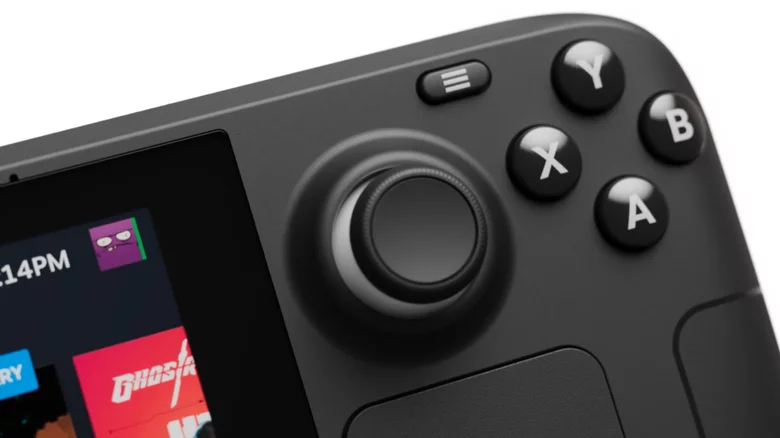 It gives you the chance to enjoy any kind of game that you have in your Steam library. With an increased level of precision enhanced by the trackpads, you get a competitive advantage, especially when playing fast-paced FPS games.
You can also utilize this product for other functions such as surfing the web and streaming videos online. Steam Deck allows you to have the most exciting gaming experience while still being useful for other functions. If you need a multi-purpose gaming PC, then, you should get the Steam Deck handheld computer.
Features
7″ Touchscreen
40Wh Battery
Expandable I/O
Hi-Fi Audio
Built-in Storage
Wireless Connectivity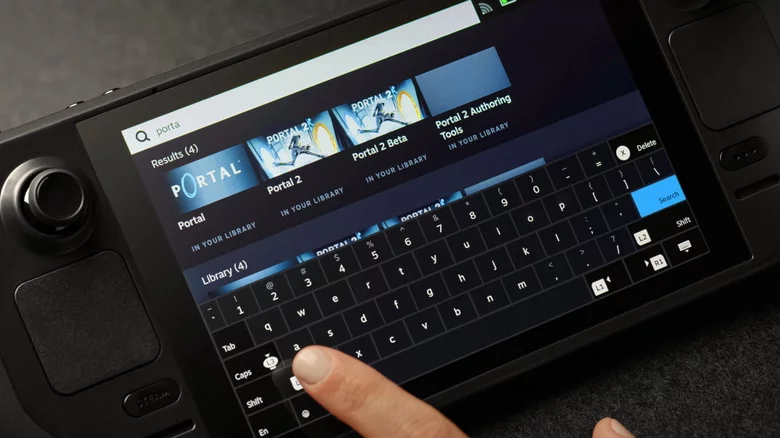 Pros
It is comfortable: The trackpads and thumbsticks are easily within your reach and they aid you in playing your game for an extended period without sacrificing your comfort. Regardless of your hand size, the crafting is suitable for your usage. This Valve product uses a multi-touch display that helps you in swiping through the Stream UI with ease. It is a 60Hz LCD touchscreen with a brightness level of 400 nits that offers you clear and vivid images that make gaming a more thrilling experience for you.
Versatility: You can use Steam Deck just as you use your private computer. It allows you to throw the images on bigger screens, connect to peripherals and perform normal computer functions. Also, the Steam Deck PC comes with a multi-purpose USB-C jack that can be used for peripherals, charging and even transferring the game to a much bigger screen. The USB-C port is compatible with all kinds of I/O and as a dock, it allows you to connect it to your television for a greater experience.
Powerful performance: Although it is a handheld gaming PC, it has a powerful performance. It can effectively run all the recent AAA games without any interruptions in the gaming process. It even comes with a SteamOS feature that allows you to put your game on hold and pick up from the exact place you stopped without the fear of losing. If you want to move beyond the status quo to enjoy a groundbreaking gaming adventure, Steam Deck would take you there and beyond.
Easy to use: After you switch on this device, you just log in and begin to play any game of your choice. There is no complexity about the process because all you need is within your disposal and it is pointed out. The Steam Deck computer uses a dual-band WiFi radio of 2.4 GHz and 5GHz. With its wireless connectivity, you can stay connected to the world. If you are dealing with either keyboards, headsets or mice, you would be able to connect seamlessly using Bluetooth.
It offers a high level of precision: The thumbsticks of this device contribute greatly to enhancing your general performance. They are made with capacitive touch sensors that increase your accuracy.
Effective Communication: It uses speaker stereos that aid you in picking up sounds to enhance your gaming experience. You get a high level of clarity with its embedded DSP and wide-soundstage that allows you to communicate effectively with your friends on Steam chat. Make sure to use your best headset to enjoy this Valve gaming product.
Cons
Short battery life: The Steam Deck product can only last for up to 2 to 4 hours when used to play games. This time range can be frustrating for gamers especially if there is no power outlet around them where they can recharge it. The 40Wh Battery lasts according to the type of game that you are playing. If you decide to settle for less weighty usage such as web browsing, 2D games and game streaming, the battery would last for up to 8 hours.
The dock comes separately: You would have to get the dock separately which means extra cost. The entire purchase of the Steam Deck is costly especially since it does not cover all the accessories needed.
It is costly: With this handheld PC, you get three different options of inbuilt storage. Despite the difference in prices between the three options, there is no difference based on the quality of the game and the graphics. You can either get the 64GB for $399, 256GB for $529 or the 512GB for $649 with slightly different features.
Compared to its rival product Nintendo Switch OLED, Steam Deck's cheapest product is more expensive by 50 dollars. By the traditional standards, it is costly.
Final Verdict
This handheld gaming PC is relevant to hardcore gamers despite its flaws. With a weight of about 670grams, you no longer have to haul heavy laptops or desktops around just to play games, with Steam Deck, gaming has become handy! You get to choose from hundreds of games in the library and also play them in the convenience of your bed and even your couch. Purchasing the Steam Deck PC is worth every single penny that you spend on it especially with its groundbreaking features.