Description
This tool kit is your solution to opening all currently available consoles including Xbox, Xbox 360, Xbox controllers, one snap features, Nintendo Wii, Gamecube, GBA, ds, ds lite, most accessories, Nintendo cartridges, Classic Nintendo consoles, Sony PS3, PS2, PSP, PS two, and controllers.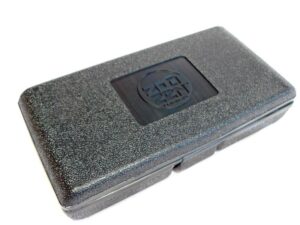 Product Features
This tool kit includes the tools you need for the:
Microsoft products, including Original Xbox, Xbox 360, and accessories like the Xbox 360 wired controller, and the Xbox 360 wireless controller. Special tools: the OneSnap, the only one-piece Xbox 360 case separator, and a special long neck tamper-resistant Torx bit.
Nintendo products, including the Nintendo Wii, GameCube, GBA, DS, DS Lite, and most accessories like Nintendo Cartridges, Gamecube controllers, and power supplies. Special Tools: Triwing bits in two sizes and two sizes of rare Linehead Nut Setters in hardened steel. Also has the correct tools for most of the retired Nintendo game machines (those not currently for sale in the marketplace).
Sony Products, including PS3, PS2, PStwo, and PSP and many accessories (for example Sony controllers).
The Access Pro Tool Kit also has the correct tools to open most third-party products.
Package Contents
1pc Easy grip screwdriver handle
1pc Magnetic Tweezers
1pc "OneSnap" tool for opening Xbox 360
1pc Linehead nut setter (small size)
1pc Linehead nut setter (large size)
1pc Flathead bit, Long
2pcs Torx Size 6, Tamper Resistant
2pcs Torx Size 8, Tamper Resistant
2pcs Torx Size 10, Tamper Resistant
2pcs Torx Size 15, Tamper Resistant
2pcs Torx Size 20, Tamper Resistant
2pcs Hex Size .05
2pcs Triwing Bit
2pcs Phillips #000
2pcs Phillips #0
2pcs Phillips #1
2pcs Slotted 7/64