Description
The XCM VGA box is compatible with the Nintendo Wii, Xbox 360, and the Playstation 3. This works with both NTSC and PAL systems. This product is plug and play and gives you YPbPr input with all the consoles and 1080p resolution.
This VGA box supports resolutions of 480p, 720p, 1080i, and 1080p. The Video is transmitted through the VGA out and only requires a USB to power the box.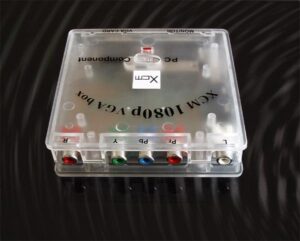 Product Features
Compatible with 3 consoles. (Wii™, PS3™, Xbox 360™)
Works on both PAL & NTSC systems.
Double scan conversion (31.5KHz for NTSC, 31.25KHz for PAL,67.5KHz for 1080p).
Output resolution ; up to 1080p
Plug and play installation.
Connect compatible YPbPr device to your VGA monitor
Integrated YPbPr to RGBHV converter
Supports 480p, 720p, 1080i, and 1080p
Applications: TFT LCD monitor, CRT monitor, Set-top box, Display projector
Works on LCD TFT monitors
Video output: VGA
Automatic video source mode detection (film/graphic)
Motion-adaptive interfiled de-interlacing
Use the power from a USB port, no extra power supply is needed
Comes with 3pcs of XCM cables, 1. PS3™ shielded component cable, 2. XBox360™/ Xbox™ shielded component cable and 3. Wii™ component cable.
Package Contents
XCM 1080P VGA BOX
1 PS3 Shielded component cable
1 Xbox 360 shielded component cable
3 Wii component cable