Description
Precision engineering and quality of manufacturing make this the best and most advanced solderless chip ever made! Works with ALL known Xbox versions to date (no need to check your version first) No soldering required. Unique precision-engineered acrylic template for wire guide and safety feature.
Instant verification of correct contact on all five points through LED indicators (not for decoration only) The only fourth generation, fully solderless DIY system offering such flexibility and compatibility available to date!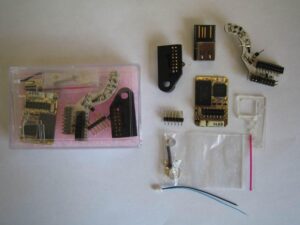 Product Features
GOLD 24K Version
Works On All Xbox Versions V1.0 – V1.6b completely SOLDERLESS
NO DIP SWITCHES.
Dual SPI expansion port (be ready for many new innovative and exciting hardware add-ons to come soon)
Dynamic Bank partitioning
Emergency Recovery System (ERS)
Multi-installation methods
Built-in EEPROM utilities
Backup EEPROM for flashing
Restore EEPROMS from flash
Quick select user-programmable bank booting (use joypad to override default boot bank setting)
Bios flashing from HDD, browser, or CDROM
Full-color status/bank indicator LED
30 Second SP adapter installation
Package Contents
Official Xodus Xenium Gold S.P. 24K Solderless Mod Chip
Anti-Static Packaging.
Pins For Installation
Xenium SP adapter
Installation & Usage Instructions
Install and BIOS Instructions
OzXodus Xenium Install Instructions (Solderless Included)
OzXodus Xenium ICE Install Instructions for 1.6 (pic-1)
OzXodus Xenium ICE Install Instructions for 1.6 (pic-2)
Xenium-OS V2.0 User Manual
Xenium Ice Tutorial
Downloads
For Bulk Prices and Wholesales accounts please email [email protected] We Will Beat Any Price! Please contact us if you would like your website or program listed here.