Description
Instead of buying proprietary UMD discs at $20 each or downloading TV shows for a fee from a limited catalog, you can now create open digital video files from all the content you already own. You can watch content whenever and wherever you want on your Video iPod™ or Sony PSP™.
Here's how it works. Just pop a CF or memory stick memory card (purchased separately) into the Recorder 2 and plug it into the video-out jacks of any video source (cable or Satellite TV box, DVR, PVR like Tivo™, VCR, DVD player, camcorder, etc) with the supplied cables and hit 'Record.' Once the recording is finished, you can instantly view the recorded video on a PSPTM, your laptop or other handhelds that accepts CF or memory stick by popping the memory card out of the Recorder 2, popping it into the player, and hitting 'Play'.
It's easy to watch on an iPod too: Just transfer the recorded file to your PC via a USB card reader (purchased separately) and add it to iTunes, then sync your iPod, and you are ready to go. Nothing to download or convert.
Neurosis is all about openness and freedom and, unlike the big guys, uses open standards to make sure your content plays without hassle on as many products as possible.
You can even do timed recording so you can record last night's "Sopranos" or "The Daily Show" while you sleep or this afternoon's ballgame while you work. And it's just as easy to record from DVDs or to digitize your home movies. You can also use Recorder 2 to watch videos or view photos on your TV. Just plug it into the Video-In jacks on the TV and hit 'Play'. And with the USB connection from your PSP or an inexpensive USB adaptor/Card reader (not included), you can easily drag and drop content from the memory card onto your computer to play it on your laptop or home PC.
The Recorder 2 weighs ounces and fits in the palm of your hand, so you can easily take it on the road with you like your portable digital VCR.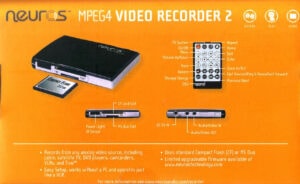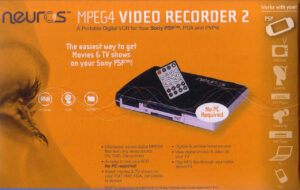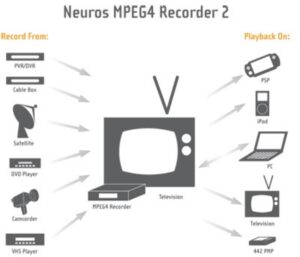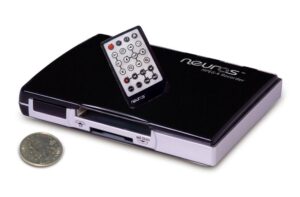 Product Features
Record effortlessly from any video source (TV Cable box, Satellite Receiver Box, PVRs, or DVRs Like TiVoTM, DVD players, VCR, Camcorders).
Simple setup that works without a PC and operates like a VCR.
MPEG-4 video format allows you to view the content directly on your PSP™, Video iPod™, or any other device that accepts Memory Stick DUO/PRO DUO or Compact Flash (CF) memory cards (not included).
The MPEG-4 format is also compatible with most other portable media devices such as the Neuros 442.
A great way to digitize your home movies for archiving, emailing, or playback on portables and laptops.
Can playback from Recorder 2 through TVs and home theatres. A pocket-sized device is small enough to use as a portable VCR.
Three resolution Settings: VGA (640 x 480) for near-DVD quality playback on TV; QVGA (320 x 240) for high-compression playback on most handhelds like the Video iPod™ and Sony PSP™; and WQVGA (368 x 208) optimized for playback of widescreen movies on the Sony PSP™.
Four recording quality settings: Superfine, Fine, Normal, and Economy.
Uses Advanced Audio Codec (AAC) format for high-quality stereo sound.
Upgradeable firmware from www.neurostechnology.com" for future expanded functionality.
Package Contents
Neuros MPEG-4 Video Recorder 2
Standard A/V RCA Interface Cables
110-240V AC/DC Power Supply
Slim Remote Control
User Manual Driver and Bundle Software Pack
Downloads
Video Demo