Description
This unlike its regular black console is very exclusive. The Sony PSP has changed the gaming industry forever! Setting new standards in multi-media and graphics is a hard one to top Unless…
The White PSP is a Japanese version but is fully compatible with all USA games and adapters. The PSP can be charged on any power plug (it operates on 110-220v)
The new Ceramic white PSP features a 16:9 widescreen TFT LCD centered in a sleek ergonomic design with a high-quality finish that fits comfortably in the hands. The dimensions are 170mm x 74mm x 23mm with a weight of 260g. PSP features a high-quality TFT LCD that displays full color (16.77 million colors) on a 480 x 272 pixel high-resolution screen. It also comes complete with the basic functions of a portable player such as built-in stereo speakers, exterior headphone connector, brightness control, and sound mode selection. Keys and controls inherit the same operability of PlayStation® and PlayStation 2, familiar to fans all over the world.
PSP also comes equipped with diverse input/output connectors such as USB 2.0, and 802.11b (Wi-Fi) wireless LAN, providing connectivity to various devices in the home and the wireless network outside. The world of gaming is further enhanced by enabling users to enjoy online gaming, or by connecting multiple PSPs, directly via the wireless network. In addition, software and data can be downloaded through a USB or wireless network onto Memory Stick™ PRO Duo. All of these features can be enjoyed on one single system.
PSP adopts a small but high-capacity optical medium UMD™ (Universal Media Disc), enabling game software, rich with full-motion video and other forms of digital entertainment content, to be stored. The newly developed UMD, the next-generation compact storage media, is only 60mm in diameter but can store up to 1.8GB of digital data. A broad range of digital entertainment content such as music video clips, movies, and sports programs can be provided on UMD. To protect this entertainment content, a robust copyright protection system has been developed which utilizes a combination of a unique disc ID, 128 bit AES encryption keys for the media, and individual ID for each PSP hardware unit.
Be sure to have a PSP with its full potential busted wide open!
FREE SHIPPING ON THIS ITEM!!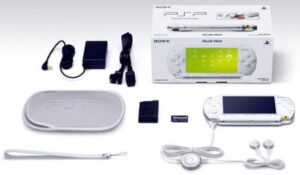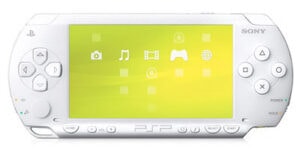 Product Features
Can do everything a normal USA PSP can!
USB 2.0 Compatible
Wi-Fi Wireless LAN
16:9 Widescreen TFT LCD
Universal Media Disc (UMD) Standard
On-Screen Languages: English, German, Spanish, French, Italian, Dutch, Portuguese, Korean, and Japanese
Region Free for games (all games work on any PSP worldwide and vice versa)
Import friendly AC Adapter that works worldwide (100-240V)
Package Contents
Ceramig White Sony PSP (JAP) – PSP-1000KCW
Battery Pack
AC Adapter (100V – 240V, 50/60Hz, works worldwide)