Description
Now you can have This Platinum Chrome premodified PSP with a 1 GB memory stick!! Stand out from the rest with this modchipstore.com exclusive!!
With this Pre modded Unit you can load your homebrew software on this Sony PSP and play such things as emulators, applications, WiFi media players, customize the whole look of your PSP. Be sure to have a PSP with its full potential busted wide open!
The PSP itself is amazing, but when you add the Undiluted Platinum PSP modchip to it you also gain these features:
The Mod Chip will Unbrick any previously Bricked PSP because of its 2nd flash on the board. The U.P. (Undiluted Platinum) PSP ModChip is a flash replacement system for the Sony PSP™ which allows the use of previous flash updates or custom firmware builds, This ability creates the opportunity to run unsigned homebrew code on even the latest Sony PSP Handheld Portable. There is no more need for Unreliable Hacked Firmware. The U.P. contains 32MB NAND flash which is programmable from a PC via USB Cable with user-friendly software. The Dual-Boot Feature of the U.P. PSP Mod Chip allows you to boot from the PSP's Onboard Flash, or the one mounted on the Undiluted Platinum PSP ModChip; You can tell your PSP which Flash to use by a single button being pressed during power-up. Hold L1 during power up to boot from PSP flash, or don't hold anything to boot from U.P Flash Default. Since U.P. provides a secondary flash which the PSP can boot from, it can even be used to restore a PSP that has been "bricked". Every effort has been made to make our flash updater software, which will be freely available for download, both as easy to use and reliable as possible. The software also contains diagnostics that can be used by installers to determine if an installation has been successful or not.
The U.P. is completely contained within the PSP under normal usage and avoids any unsightly external modifications to your PSP. PSP is after all portable, let's keep it that way!
To maximize the benefits that U.P. can provide its users, The U.P. PSP Mod Chip has an open-source approach and will be releasing source code for any software U.P releases, as well as full documentation for the U.P. hardware interface – including information on how to control U.P. from within PSP programs. This will allow anybody to create software that can take advantage of what U.P. has to offer. This means there will be some guaranteed great programs from the scene's Best Hackers.
Now you also get the Platinum Edition Chrome Casing along with a 1 GB memory stick!!!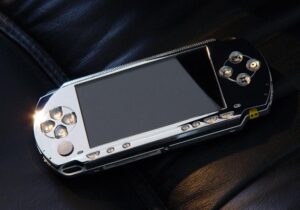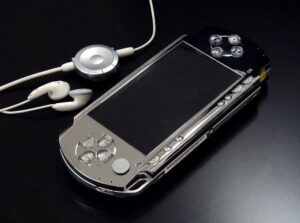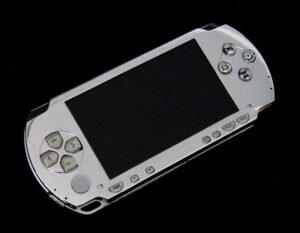 Product Features
Professionally Pre-Modified with strict quality controls
Can do everything a normal PSP can and more!
Has the ability to run Homebrew applications like Emulators, Media Players, and much more!
Run your Homebrew Code in even the latest PSP's
No need for Hacked Firmware anymore, Dual Flash boot will bust your PSP wide open with possibilities
Ultra-reliable and feature-rich Actel ProASIC Plus FPGA
Full Speed USB 1.1 ASIC onboard
Branded 32MB NAND flash onboard (same flash as used in PSP)
Stable and reliable flashing software freely available for download
Open platform development system for software developers
The installation has been optimized to fit entirely inside PSP
All PSP hardware versions/regions supported
User updatable flash
Low power consumption
Flash select via button press
Ultra-compact PCB has been designed to avoid signal bounce
Package Contents
Platinum Edition Chrome Sony PSP Handheld Console
1 GB memory stick
Battery Pack
Manual
AC Adapter
Undiluted Platinum PSP Mod Chip Professionally Installed