Description
Don't want to be tied to a contract with your iPhone 3G? The iPhone Unlock Sim makes that possible too. The iPhone 3g Unlock Sim… The 3G STORM allows you to unlock any iPhone worldwide, even the newest 2.2 and 2.21 firmware and basebands. Fully unlock your iPhone and use the network of your choice, or your current network without having to switch. The i-Smartphone iPhone Unlock Sim is compatible with all iPhone models worldwide with ANY firmware/baseband you have – even the latest 2.2.1 firmware and 2.30 baseband! What's best about the iPhone Unlock Sim is that you can use it without voiding your iPhone warranty. Because the iPhone Unlock Sim does not require you to load any software or change the actual firmware of your iPhone. Your warranty will be intact and in place without any worries.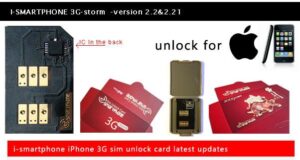 Product Features
Unlike other Unlock Sim Cards – there's NO NEED to cut the sim card at all
Support all models of iPhone / iPhone 3G
Compatible with the newest 3G 2.2 and 2.2.1 firmware. Guaranteed
Unlock your iPhone and use any network carrier
Not Just for iPhone – Unlocks countless other phones too… Nokia, HP, HTC, Sony Ericsson, and many more! Full List Can Be Found Here.
Super Signal Restore – Not only does it unlock the iPhone, but it also improves your signal in hard-to-get-good signal areas.
Full 3g data support
No more dropped signals/calls
Other iPhone Unlock Sim cards cause interference, and you end up losing your cell signal and having dropped calls… This is not the case.
Less than half the price of other, inferior iPhone Sim Unlock cards.
Package Contents
iPhone 3G Storm Sim Unlock Card
Installation Instruction Booklet
Online Support