Description
There's an Action Replay Memory Card, with an amazing 64Mb of storage space, a USB 2.0 cable to connect your PSP to your PC, and a CD containing PC software that allows you to manage your saves, MP3s, and movies, as well as download more materials from the CodeJunkies server (internet connection required).
The AR MAX disc gives you easy access to thousands of specially created PowerSaves, which you can transfer to your PSP using the supplied USB Cable, and store on the supplied MAX Memory 64MB memory card. And remember, PowerSaves are no ordinary saves. The CodeJunkies boffins who create these things are not only expert gamers, but they have the skills to hack into each game and make things happen that simply wouldn't otherwise. Awesome! You can start a game with Infinite Health, Infinite Lives, All Characters, Every Level Open, and more.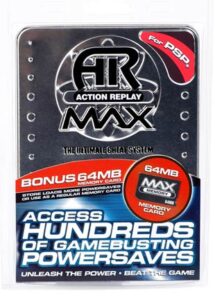 Product Features
Powerful Action Replay software.
Fast USB 2.0 cable.
64Mb Memory Card.
Download PowerSaves from the CodeJunkies server.
Organize your movie, MP3, and save files.
Archive your PSP materials on your PC.
Package Contents
Action Replay Boot Disc
64MB Memory Card
Fast USB 2.0 Cable