Description
With Action Replay MAX the PlayStation 2 suddenly becomes the center of your digital lifestyle with exciting new functionality including MP3, the most popular movie file formats, CD-R compatibility, USB Flash drive support, PS2 online chat, and even a retro games emulator.
Using the bundled MAX Media Creator software for PC, you can now burn a CD-R that will function on any standard PlayStation 2 console – no need to invalidate your console's warranty by tinkering with the hardware. This incredible new capability is both easy to use and immensely powerful.
Now you can create your own custom-made PS2-compatible discs containing MP3 music, movies, and even retro Genesis/MegaDrive games. Experience them all through your PlayStation 2, only with Action Replay MAX.
And that's not all…
Packed with even more playable cheat codes than ever, and boasting the best code support of any video game enhancer, Action Replay MAX once again leads where others only dare to follow.
Action Replay MAX is packed with more game-busting codes than ever, allowing you to beat any PS2 game with a whole host of 100% unofficial cheats that you won't find anywhere else. Instantly acquire MAX health, ammo, and money. Unlock secret characters, levels, vehicles, and much, much more. Blast your games wide open!
Action Replay's Advanced Code Engine (A.C.E.) will automatically download a game's codes direct to your PlayStation 2, in many cases before that game is even available at retail. What's more, Action Replay is the only cheat code system that will then automatically recognize your new PS2 game release, taking you straight to the specific codes for it. So why wait around until "Day One" for codes?
Not got broadband? No problem. It's still so easy to get the latest codes in a flash. Action Replay includes support for a USB Flash drive, or you can download new codes to a CD-R and then load them into Action Replay on a standard PS2.
New codes can still be entered by hand using a standard PlayStation 2 gamepad, or via a compatible USB keyboard such as Datel's own PowerBoard.
Action Replay MAX is quite simply the most advanced cheat code system ever developed, yet it's so easy to pick up and use.
Action Replay MAX's EVO Drive is the fast and easy way to transfer new codes and game saves between your PS2 and any PC. Go online to download the very latest game-busting codes and saves. Use EVO Drive's massive 16 megabytes of memory to back up your standard memory cards, or use the unique "Crusher" option to pack in up to 10 times more data. .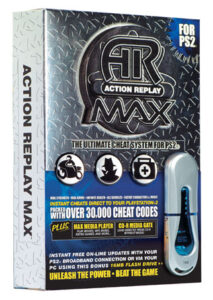 Product Features
English version compatible with NTSC (USA) PS2 consoles only
Preloaded with over 30,000 powerful cheat codes for the latest and greatest PS2 games. Blast your games wide open with infinite health and ammo, unlock characters, levels, vehicles, and more.
So easy to update with new codes in a variety of ways. The only cheat code system that can be updated directly via a PS2 broadband internet connection, USB Flash Drive, CD-R, USB keyboard, or standard PS2 gamepad.
Includes proprietary MAX Media Creator PC software letting you burn your own Action Replay MAX-compatible CD-R's that play on any regular PlayStation 2 – no need to modify your console.
Enjoy MP3 music via your TV or music system using your PS2 – enjoy over 10 hours of music on just one CD-R (encoded at 128kbps).
Watch movies encoded in popular file formats on your PS2. One CD-R contains up to 3 hours.
Play Genesis®/Megadrive® game ROMs on your PS2
PS2 online chat and instant messaging – enjoy real-time discussion with other Action Replay owners from all over the world
Turn your PS2 into a multi-region DVD player and watch movies from other countries
Pack up to 10 times more data onto any memory card using the MAX Memory Manager feature
Download game-busting PS2 game saves directly to your memory card
Want to access your codes quickly? Action Replay MAX is the only cheat code system that recognizes your specific game disc as soon as you insert it.
Unrivaled code support – the fastest codes for all the biggest and best games
Intuitive game-style interface that's a joy to use
…and much, much more!
Package Contents
Action Replay Max Evo for PS2
Evo Drive 16MB USB Flash Pen