If there's a name that should come to your mind when you think about the best free-to-play game, the name must be Warframe. This game only keeps getting better by the constant upgrade in features to ensure that you experience the most intriguing feel while playing the game. The New Expansion and its features fall into the need to reach out to a wider player base that deserves to enjoy the exciting lethal combat of Warframe. 
Are you ready to learn about Warframe and its much-anticipated upgrade? Read till the end to discover the juicy gist behind it. 
What You Need To Know About Warframe
After its launch in 2013, Warframe manifested as a pure beauty that stole away our hearts. It was developed and published by Digital Extremes, as of 2019, it saw nearly 50 million players across the globe. 
You can find it on Windows, Nintendo Switch,  PlayStation 4, PlayStation 5, Xbox One, Xbox Series X, and Steam. It has gone through an evolution process that makes it come out better every single time. If you love exceedingly satisfying third-person combats that are face-paced, Warframe is definitely for you. 
This game is set in the future, it allows players to control members of the Tenno who awoke on Earth from a cryosleep. They are at war with the Grinners who are deteriorated human clones that have various factions. There is Corpus which is a corporation dealing with advanced robotics and laser technology. Also, there are the disfigured and infested victims of the Technocryte virus and then there are the Sentients who are self-replicating machines made by the Orokin. 
The Lotus, a race that assists Tenno in their trying times as they provide hints on how the Tenno can defeat their enemies. The Tenni fights back by using the biomechanical suits which the Warframes that help them to channel their exceptional skills. All these factions including Tenno were created by the ancient Orokin empire. 
What Does Warframe Offer You?
Warframe has seen huge success since its launch because of its unmatched features and commitment to paying attention to its player base. In turn, it continues in relevance and popularity as it still ranks top 20 on Steam. This is what Warframe offers you.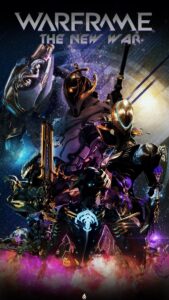 The Power To Create The Perfect Assassin
It gives you the liberty to choose your Warframe that you can customize by yourself. You don't have to depend only on their natural fighting skills, but they also have unique abilities such as mind control, Teleport, and Invisibility. All of these are what you get to create by yourself. 
Thrilling Lethal Combat
Warframe offers you thrilling lethal combat and even more. You can effortlessly leap, slide and navigate around capitalist machines and grotesque clones while playing the game. If you love to fight with a blade or go in with your guns blazing, Warframe allows you to enjoy both. Tenno has a deadly skill in traditional combat arts complemented with a great level of mobility and regenerative shields. 
Create Your Own Experience
Warframe even allows you to assemble your arsenal. If you want Nikanas, Flamethrowers, or Pulse rifles, you can easily modify your weapons to create the greatest level of mayhem. These weapons offer enormous possibilities to create an enjoyable gameplay experience.
Play With Friends
Who said you had to fight these battles alone? You can invite 3 of your friends to fight alongside you in the Origin system. The Warframe experience only gets better especially when you play with your best buddies. 
4 Exciting Features To Expect From The New War Expansion
Despite the amazing features you already have access to, Digital Extremes takes your gaming experience to the next level with The New War Expansion. 
A New Quest
Although Warframe is an already popular game that has millions of players, Digital Extremes show their prowess in releasing a new quest into the Warframe storyline. The story centers on the main Origin system which is every single world that players can conveniently explore. 
This space is occupied by Sentients Hellbent which is the machine army, this main quest takes place on earth where the Sentients have destroyed the human colony of Cetus. The Tenno would have to face off the growing force of the Sentients as they have invaded Cestus which is Earth's major human settlement. 
Ability To Control More Characters
The major plot twist of the much anticipated New War Expansion comes as a result of the characters that have been included in the gameplay. Other than the familiar Tenno characters, players can take on a crucial role as side characters for their story missions. Although the quest would still be focused on Tenno, this is the first time that players would have such an opportunity and the thought alone is thrilling. 
From the trailer that was released, you can now control the Veso, the Corpus engineer, Conclave faction's Teshin, and Kahl-175 of the Grineer. It is most exciting that you can now move beyond the regular player chosen Warframe to control other characters especially Teshin who was the most popular player from the last Warframe quest.
Cross-Play, Cross Progression, and Cross-Save
Alongside the introduction of a new quest and the ability to control more characters, Digital Extremes promises an upgrade even within the use of their gameplay. Previously, progression was only transferable between platforms of the same family. 
That means you could only transfer from a PS4 to a PS5 and also from an Xbox One to Xbox series. Along with the fascinating gameplay, Digital extremes announced that you would now be able to transfer your progress to any platform of your choosing. It saves you the trouble of looking for platforms of the same family and helps you to choose any one of your choices. 
Digital extremes also showcased the crossplay feature that allows you to cross playing using PlayStation, Nintendo Switch, PC Versions, and even Xbox. This would increase the number of people you can play Warframe with across the player base because the restriction based on the console type being used is going to be broken. 
Warframe Mobile Version
At Tennocon 2021, Digital Extremes came with all the surprises including particularly exciting news that the mobile version of Warframe. They showcased some gameplay on mobile phones and made us aware of the new development that would make Warframe even more accessible to all. 
This would remove the restriction of how you play Warframe. With a mobile phone version, you can play Warframe at your convenience any place you find yourself. 
Final Thoughts
The New War expansion is worth the hype as Digital Extremes commits to fulfilling the wishes of their player base by constantly upgrading their features. They succeed in making sure that they are relevant to their audience and effective in the role they play in entertainment.