Description
This version is completely plugged and play, it does not require an original DS game to work! Load media, freeware, executables, and even commercial ROMs that are stored on any Nintendo DS or DS Lite Flash Cart.
No more clunky PassMe devices sticking out of your ds slot or the need for a PassMe 2 to be programmed for a specific ds cart to run homebrew or commercial ROMs on your DS Lite. The Passcard 3 fits snug inside your ds slot and needs no special tricks, just put it in your ds and play.
The Passcard 3 is compatible with every Flash Cart and acts as a PassMe 2 so it works on the DS and DS Lite.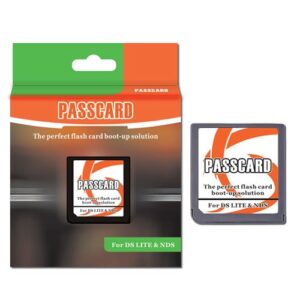 Product Features
Amazing boot-up solution for the DS Lite & Nintendo DS.
Compatible with Every Flash Cart
Simple use, just plug and play!
Ability to run music, movies, freeware, homebrew, and other applications
Works in sleep mode
Package Contents
Passcard 3 in retail packaging